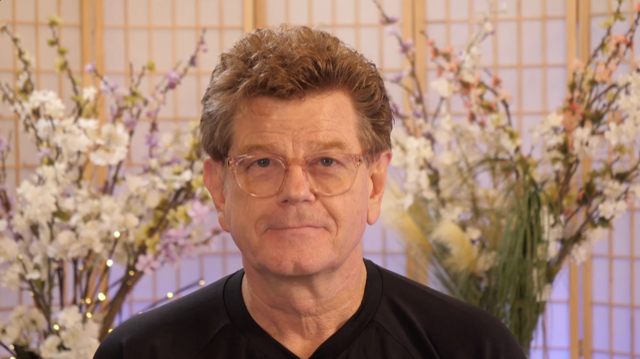 Doug Keller

Doug Keller's background reflects a lifelong commitment to the vast field of yoga. After receiving degrees in philosophy from Georgetown and Fordham University and teaching philosophy at a college level, he pursued a practical experience of yoga at the ashram Gurudev Siddha Peeth in India — which in turn also led him to the practice of hatha yoga as part of his overall experience of yoga. 
From years of study, practice and teaching, he has produced widely used and highly respected books on asana, yoga as therapy, pranayama and yoga philosophy, and he teaches hatha yoga workshops and trainings in both North America and Europe. 
He was a regular columnist for Yoga International Magazine for three years, and has also written on therapeutic topics for Yoga Journal. His popularity as a teacher comes from his ability to deepen people's experience of yoga through clear, simple and direct instructions that are easy to practice and remember. And he does it with lightness and light.

September 29 - October 1, 2023
These classes are Yoga Alliance approved, and these hours can be applied towards your continuing education.
Attending each day will accrue a total of 20 hours.
'Rediscovering Freedom' seems like an apt theme to explore, particularly after the restrictions of the past couple of years. And this theme will have a practical, focused purpose for understanding therapeutic applications of yoga more deeply — particularly with regard to chronic pain patterns.
With both learning and doing, you'll be given the tools to deepen your own practice and to gain confidence and insight for working with students. This is about making the most of the benefits of a yoga practice on any level!
A theme that will run through this training is an understanding of how and why joint pain, muscle stiffness and weakness, limited range of movement, and recurring pain patterns have a common root in the body's protective reflexes — and what to do about it to restore strength, flexibility, and function. 
September 29
11am - 6pm
Keys to Understanding Pain Syndromes — And Starting off on the right foot with Foundations in the Feet, Knees, and Hips
This session starts with an introduction to themes for the training on rediscovering freedom: the role of joint play and the arthrokinetic reflex for understanding pain syndromes and movement limitations, and what that means for a more insightful understanding of yoga practice.
From that introduction, we'll proceed with the practical theme of new insights into how the feet work, and how this impacts the health of the knees — and hips.
This more dynamic account of the feet, with more accessible principles for working with them, will also pay off with insights into the knees and hips, with the feet being the keys to both the knees and hips.
This will include assessment principles, remedial exercises, and insightful asana practice embodying sequencing ideas.
September 30
11am - 6pm


Loving the Low Back - The Torso is the Prime Mover
While we most often focus on the extremities — the legs and arms in relation to the hips and shoulders — the real driver of joint health in all of the body is the dynamic, functional movement of the torso.
This is about the many layers of the 'Core,' which includes not only the support of abdominal layers, but the role of the psoas and its 'substitutes,' back muscles, pelvic floor and diaphragm, hip muscles and functional myofascial lines that are the keys to understanding the logic of asana.
'Loving the Low Back' includes taking care of sacral freedom and stability, hip health, and issues of sciatic pain. And we'll see through functional lines how actions of the upper body and shoulders are also key to supporting low back health.
All of these deeper insights into the torso and its role as the driver of movement will lead to some liberating rethinking of asana practice — moving from 'old school' concepts and instructions to ideas that fit and serve the body better.
October 1
11am - 6pm


Upper Body Health — Head and Shoulders
The health of the neck and shoulders are intimately linked — and under constant challenges from everyday life. We'll start with fundamental principles for working effectively with the shoulders in asana — working through and around common obstacles — reducing pain problems and wear-and-tear issues, while improving freedom and range of motion. 
What we have learned about the arthrokinetic reflex and approaches to working with it will be especially valuable in working with shoulder mobility!
Then we'll move into the health of the neck, especially from the perspective of the 'Upper Crossed Syndrome' — and what to do about it. This will be practical work for the neck, and will tie into the supplementary afternoon sessions regarding contemporary health challenges and the health of the nervous system in connection with the breath and neck alignment.
Schedule for Each Day:
Each day will begin with an asana practice that introduces or incorporates ideas at the heart of the training, so that you will have an experience of how you can weave these ideas into your own practice or classes.
The learning section will include both learning and doing, with illustrated notes provided for your study.
Additional Topic Covered:
The last 1½ hour of each of the 3 days will be devoted to the current health challenge of dysautonomia — which is a name for dysfunction in the autonomic nervous system that plays a role in 'long haul covid,' as well as chronic fatigue syndrome and chronic inflammatory conditions and problems grouped under 'autoimmune diseases.'
We will be looking at the relationship between these ongoing health challenges and the role of the vagus nerve in the autonomic nervous system, and what resources yoga has to offer in response, particularly through pranayama and breath-related dharana. 
We'll make connections between contemporary findings about these health problems, and the 'yoga language' of the gunas and Vayus — to understand in an experiential way the fine-tuning of breath practices and awareness that speaks profoundly to these conditions, and offers some relief.
This part of the afternoon session — which will follow after a break — will include pranayama and relaxation practices.